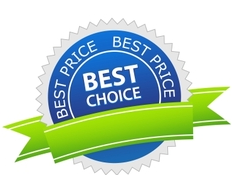 When shopping for a cell phone plan, you have two options: Get a subsidized phone and lock into a 2 year contract or for some it may be more advantageous to buy a cell phone without the subsidized price and then buy a plan without a contract and pay more for your phone than you would with a subsidized plan, but you're not locked into a contract and you don't have to pay an early termination fee to get out of your contract.
No Contract Cell Phone Choices: Pay for your Phone Monthly. 
In 2013, there are many more choices for no contract phones than any other previous years and  this is good for the consumer as it allows more choice. All of the big four carriers (Verizon, Sprint, T-Mobile, AT&T) now offer a phone upgrade program that will allow you to upgrade your phone up to twice yearly. For the most part you're not under a contract with these new plans but you are making monthly payments on your phone amortized over 20 or 24 months depending on carrier (AT&T is 20 months) and if you choose to end your service you can, but you have to pay for the balance on the phone. This makes sense because there's no free phones on these plans but you can expect to pay about $25.00 a month for a top tier smartphone like the Apple iPhone 5s.
No Contract Cell Phone Choices: Pay for your Phone Outright
If you want to just pay for your phone outright and avoid a contract all together than this option offers the most selection and options when it comes to both choice of carriers and phones. All of the big 4 carriers will sell you phones at the no contract price (usually $400 for mid-line phones and about $600.00 for a top end phone.
You might think that paying full price for a phone does not make a lot of sense, but you might find that when you do this you can get a much better selection of carriers where you can bring your smartphone to their networks (or buy a phone directly from them). Here's just a few of the no contract cellular phone carriers you can check out to get the right plan for you without having to commit  to a contract:
Verizon
T-Mobile
Sprint
AT&T
These are just a few carriers that offer a no contract phone plan. All of the big four can offer service without a contract but T-Mobile is the only carrier that separates the cost of the plan and the cost of the phone. The others (Verizon, AT&T, Sprint)  will charge you contract rates for a no contract plan if you choose to pay full price for your smartphone or if you bring your phone from one network.
The other cellular providers offer no contract pricing and you have many choices on smartphones compatible  with these plans.