Boost Mobile is a cellular phone carrier that offers pre paid plans instead of the usual contract phones you see from the larger carriers and in addition to the great phone plans they offer from $50 a month for unlimited data text and voice, they also offer a good selection of phones too with prices ranging from as little as $25.00 for a feature phone and up to $40o for a high end smartphone.
Benefits of Boost Mobile Phones
The phones for Boost Mobile are phones you can buy just about anywhere else but you get a cheap plan without any contract and you can buy your own phone outright and they offer a pretty good selection of phones too for every budget – let's have a look: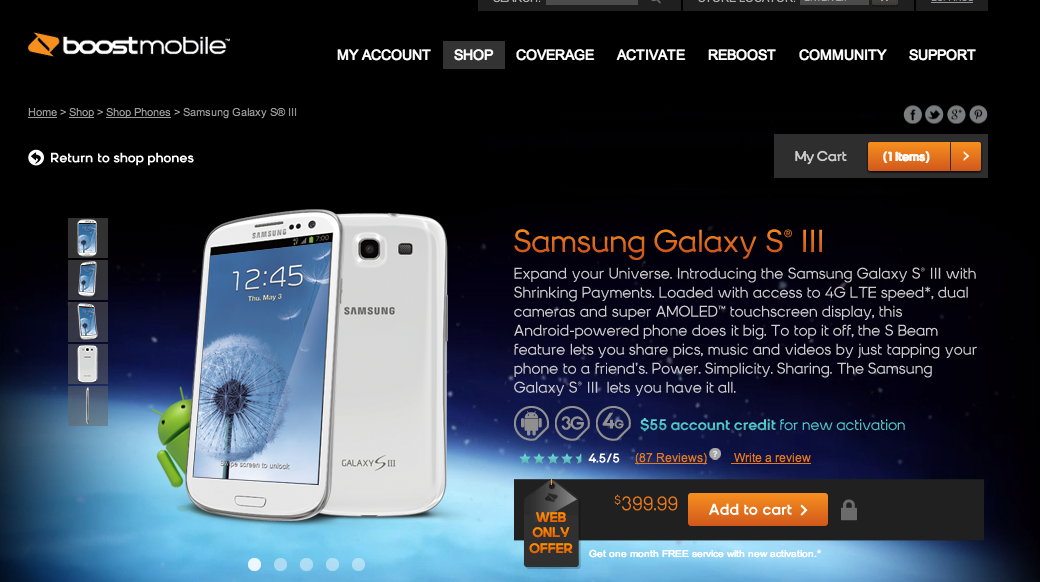 Samsung Galaxy S3
This was the best selling phone in 2012, so it's not bad a deal at $399.99 for a 4.8 inch AMOLED display, 1.5GHz dual core processor and 8 megapixel digital camera
Kyocera Hydro Edge
The Kyocera Hydro Edge is a waterproof android phone that's priced at a very reasonable $119.99.  Featuring a 4 inch display, 1.5 GHz processor, Android 4.1 OS and shock proof and waterproof design, the Edge is one of the best selling phones from Boost Mobile on sale today.
LG Optimus 7
The LG Optimus 7 is a newer phone for Boost Mobile and offers unique note taking capability with it's quick memo feature. A big and bright 4.7 inch true HD IPS display combined with a 1.5 GHz processor and an 8 megapixel camera with full HD video recording make this one of the best selling phone from Boost. Priced from $299.99
Samsung Galaxy Prevail 2
The Samsung Galaxy Prevail 2 offers a 4 inch display for those who prefer a smaller form factor in a smartphone and offers a fast 1.4 GHz processor, 5 megapixels of camera resolution and Android 4.1 out of the box for just $179.99 – A great choice for a phone under $200 for boost mobile.
LG Mach
The LG Mach is another choice when it comes to choosing a Boost Mobile Smartphone and features a QWERTY keyboard for those that prefer a physical keyboard when it comes to a new smartphone. Like the Optimus 7, the Mach features a quick memo option and the 1.2 GHz processor is fast for the Android 4.0 OS.
These are just a few of the best selling Boost Mobile Phones on sale today.