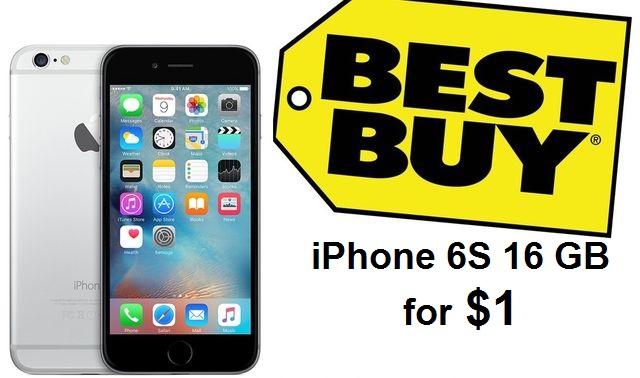 As you know, the average price iPhone 6S 16GB with contract is $200. However, Best Buy offers a wonderful deal – buy iPhone 6S 16GB for $1.
Despite the fact that the deal is very cool, customers must meet certain requirements. For example, the offer applies only to costumers of carriers Verizon and Sprint. Alas, AT&T customers are out of luck.
Also Best Buy offers only one model iPhone 6S 16GB, while the rest of Apple smartphones are sold at regular prices.
According to the official website of Best Buy, customers who are interested in the deal, have to hurry, because the iPhone 6S 16GB for $1 will only be available on Sunday, 20 December.
Although all the nuances, we should note that the deal iPhone 6S 16GB for $1 is one of the best deals.
Best Buy continues to war with other retail stores that also have interesting deals. Christmas holidays are approaching, and online stores and retailers offer many attractive deals.
As you remember, not so long ago, Best Buy is offering $100 discount on Apple Watch.
As we have said before, the deal iPhone 6S 16GB for $1 is one of the most attractive. However, other stores also have several deals. For example, Target is offering a discount on the iPhone 6S Plus, which operates in network of Sprint. This store sells smartphones Apple for $270 and $470, depending on the model.
The most popular US carrier Verizon has several deals for its customers. On the official website of the company says that this weekend the customers who buy iPhone 6S and iPhone 6S Plus will have the possibility to increase the built-in memory twice for free.