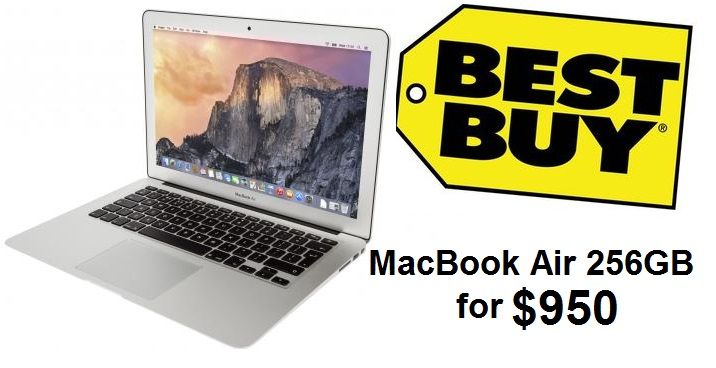 Apple has released a new model MacBook Air 256GB without fanfare. The main new devices of this year was 12-inch MacBook and MacBook Pro. Besides, MacBook Air has been changed slightly compared to the model of 2013. However, the laptop is still the excellent computer with fast processor.
Now you can save up to $300 when buying MacBook Air 256GB at Best Buy.
For a limited time, popular retailer in the US Best Buy offers new 13-inch MacBook Air 256GB of storage and 4GB of memory for $950 (regular price is US $1200). Also if you have an email that ends in .edu (or someone you know have such email), then you can save $50 more.
MacBook Air 256GB comes with new Intel Core i5 1.6GHz processor. New laptop is faster than its predecessors and gives you more battery life. Although it is almost identical to the previous model, mass media gave MacBook Air 256GB four stars out of five.
Not so long ago Best Buy offers a good deal on Apple products, including 128GB model MacBook Air. Although the laptop is still available for sale, its price is not so attractive.
I think that MacBook Air 256GB for $950 is the best deal that I've seen. In addition, deal include the option of free delivery or you can pick it up at one of stores Best Buy.