Effective Today, Walmart has dropped the price of the Apple iPhone 5s and 5c to $99.99 and $29.99 accordingly. Other Carriers are still charging $199 for the Apple iPhone 5s and $99.99 for the Apple iPhone 5c so that's a savings of $99.99 and $69.99 for the two Apple iPhones.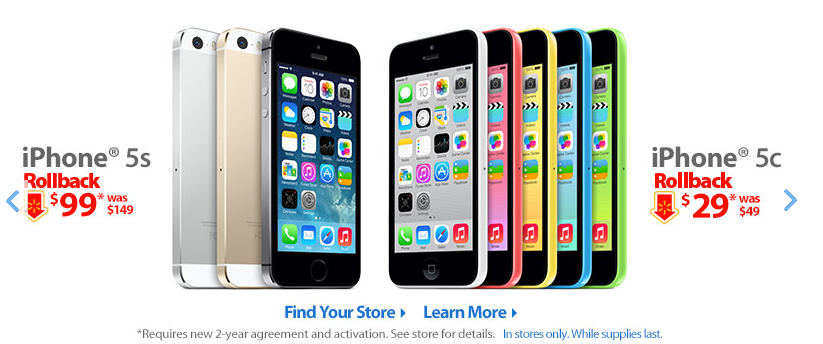 Some may consider this a sign of an Apple iPhone 6 release in both 4.7 inch and 5.5 inch versions, and this may be the case, but for the time being, these two Apple iPhone models are still current models for at least another 2 months, if not longer depending on when the release date is for the new Apple iPhone 6.
The Apple iPhone 5s is the premium flagship phone from Apple and offers  features not  found on Android Phones such as Touch ID, an Apple designed A7 processor and 8MP digital camera. The Apple iPhone 5s comes in 3 colors – Silver, Gold or Space Gray.
The Apple 5c is still a great phone from Apple and now that the iPhone is on sale for under $100, it's hard to beat the price – you can now buy an Apple iPhone that's a current model for under $30.00 on contract, and the Apple iPhone 5c comes in more colors, features a more robust polycarbonate casing (plastic bounces – aluminum just gets dents) and still offers the same iOS experience as the more expensive option for  a 2013 Apple iPhone. The Apple iPhone 5c is also a full featured iPhone with an A6 chip, 8MP camera  and  ultra fast LTE wireless.
Some might argue that buying an Apple iPhone 5s or 5c now when there's the release of an iPhone 6 coming soon not the best idea, but if you need a new iPhone today , the Apple iPhone models are on sale today and are cheaper than any new iPhone to come on the market. It's been rumored that the new Apple iPhone models might be even more expensive than current models which means upon release the iPhone 6 might cost as much as $299.99 on contract. When you compare this price of the Apple iPhone 5S vs the Apple iPhone 6, the deal on these Apple iPhones could be as much as a savings of over $250.00 off the price of a new iPhone 6 would cost.
Besides, except for some rumors and supposed case designs for the iPhone 6, nobody has any idea what the new Apple iPhone models will offer in specifications or screen size, or even price, but the current models have been tested and sold in the  millions and with over a 9 months of availability, any bugs with the current models have been worked out by now.  The new iPhones also can run the latest iOS 8 without any problems when released later this fall and the new rumored iPhone to be released in September will run the same operating system so even though there may be a faster processor and bigger screen on the new iPhones, the user experience will be the same.
Lastly, these Apple iPhone deals could be the last chance for you to buy a smaller iPhone. Not everybody wants or needs a bigger screen so if you have small hands or  just want to be able to navigate your phone one handed, then you might want to consider picking up this deal before stock runs out and these phones become discontinued.