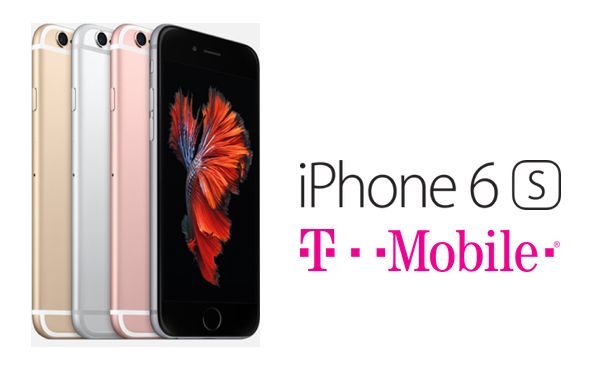 T-mobile offers every owners of iPhone 6 or iPhone 6 Plus to exchange their old phone to a new iPhone 6S (16 GB) for $5 per month.
Last week, the US provider T-Mobile announced the rent of new iPhone 6S for $20 a month without the exchange of the old smartphones.
Recall that T-Mobіle is a group of companies that work with the service provider. The main shareholder of the company T-mobile is the German telecommunications holding DeutscheTelekom. Companies T-mobile involved GSM networks in Europe and the United States. The letter T in the title refers to Telekom (telecommunications).
General Director of T-Mobile – John Legere – announced a new deal on his page on Twitter.
New smartphones iPhone 6S and iPhone 6S Plus officially available for sale for more than a week.
We have to say that this is the second big event for the iPhone 6S, which was launched US operator T-Mobile this year.
We have collected the most important things you need to know about the new offer T-Mobile:
The offer has no pre-planned expiration date.
Voluntary insurance smartphone from T-Mobile is an additional $8 per month. The insurance covers the repair of damage and replacement of the device if lost or stolen phone. Customers can also buy the service Apple Care.
This was reported by a representative of T-Mobile in an interview with CNNMoney. If customers do not want to buy the phone after 18 months of use, they can rent another phone at the new price.
If you return your old smartphone iPhone 6 or 6 Plus, you can get a new iPhone 6S (16 GB) for just $5 per month.
Also, if you want to get iPhone 6S Plus (16 GB) for only $9 per month, you must give your old iPhone 6 or 6 Plus.
Details of promotion you can see in the picture below: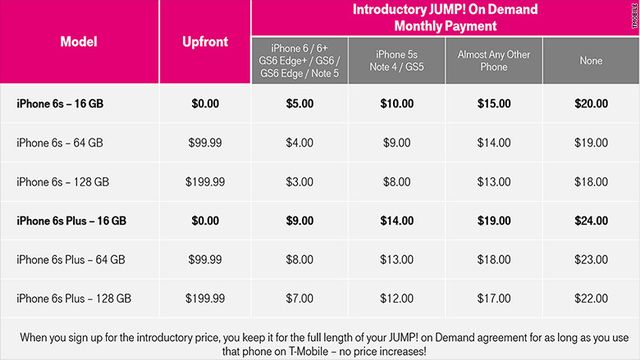 Recall that the price of iPhone 6S no contract in the United States is $649, $749 or $849 depending on the amount of built-in storage, iPhone 6S Plus is available for $749, $849 and $949.
After the release of the new iPhones, the US mobile providers began to fight for the customers. Thus the company T-Mobile has launched a program "Jump On Demand", while another provider Sprint offers its customers a program "iPhone Forever". One of the largest company AT&T has a plan called Next installment plan. On the other hand, Verizon refused from the contract for its new customers.
Now, US mobile providers have to compete not only with each other but with the company Apple, which launched iPhone Upgrade Program. Read more about it in our previous article.