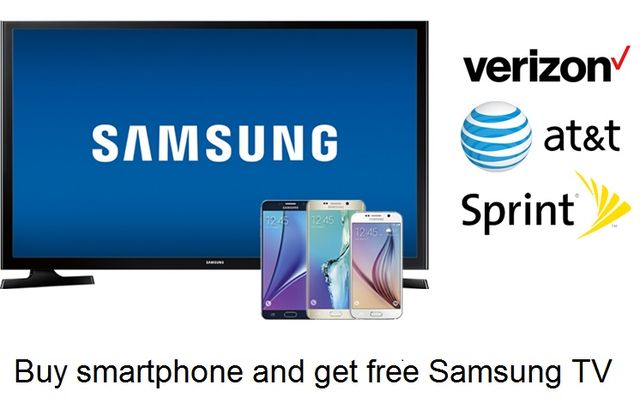 There is very little time before Christmas, but you can still catch the amazing deal. We already wrote about the deal from Best Buy on the products Apple, but now you can get the benefit from the purchase of the smartphone Samsung. If you buy any smartphone of the South Korean company Samsung, then you get free Samsung TV 32-inch Samsung! Amazing, is not it?
Last week, the same deal was available, but then the buyer had to buy a smartphone Samsung with a two-year contract Sprint. Now the consumer can choose a smartphone Samsung from almost any US carrier, and get a free Samsung TV  32-inch.
Details of the deal free Samsung TV
So, let's detail. Best Buy offers you to buy a new smartphone Samsung Galaxy S6, Galaxy S6 Edge, Galaxy S6 EDGE + or Galaxy Note 5 with two-year contract, or choose one of the services of mobile operators in the United States, such as Sprint, Verizon and AT&T. If you buy one of these smartphones, you get a free Samsung TV 32-inch.
As you can see, the operator T-Mobile does not participate in the deal, however, consumers of Verizon, AT&T, Sprint will be glad of such a possibility. If you want to get a free Samsung TV, then you need to buy a Samsung smartphone in the store Best Buy before the start of January 2016. However, Best Buy has the limited number of free Samsung TV, so not everyone can participate in a deal. We advise you to hurry up and good luck in buying!
Source: Best Buy