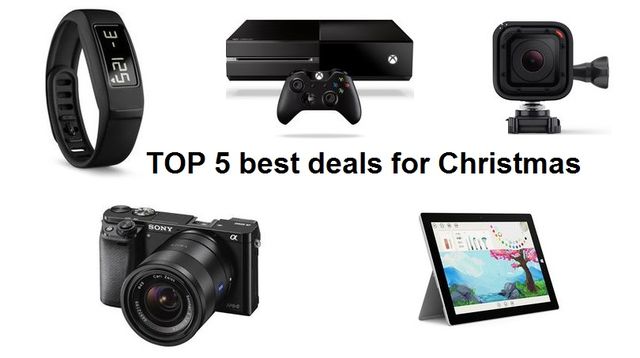 We have previously written about the best deals on Apple products and best deals on Android smartphones. But if you do not need nothing of that? We decided to collect the best deals for Christmas.
Microsoft Surface 3 for $100 off
Microsoft have an attractive deal on a new tablet. You can buy Microsoft Surface 3 with discount $100. In addition, during the ordering process, you can select keyboard Type Cover only for $79.99 (regular price $130).
Game console Xbox One for $299
You still have time to buy a game console with a big discount. However, you should hurry, because the deal ends December 26.
If you do not have time to buy game console, you may find the right thing at the time of another sell-off Microsoft, which held since December 22 to January 7.
Sony Alpha A6000 for $700
Fast mirrorless camera is a good buy. Best Buy has a deal that offers to buy the camera with 16-50mm power zoom lens and a 55-210mm zoom lens for only $700. It should be recalled that the standard price of the kit is $1150.
Buy Sony Alpha A600 for $700 at Best Buy
Fitness Tracker Garmin Vivofit 2 for $70
Garmin Vivofit 2 is a good fitness tracker with excellent battery. Tracker is always on the screen and water resistance. However, the bracelet is not equipped with heart rate sensor, which can be a big drawback for some users. Even with this flaw, the price is only $70, which is almost two times cheaper than a regular price!
Buy Garmin Vivofit 2 for $69.99 at Amazon
GoPro Hero4 Session for $199
You may have noticed that the price of many devices have fallen by half before Christmas. GoPro Hero4 Session is not an exception. The most Popular Action Camera is available for only $199. I think that only on Christmas you can buy this camera is two times cheaper than its normal price.