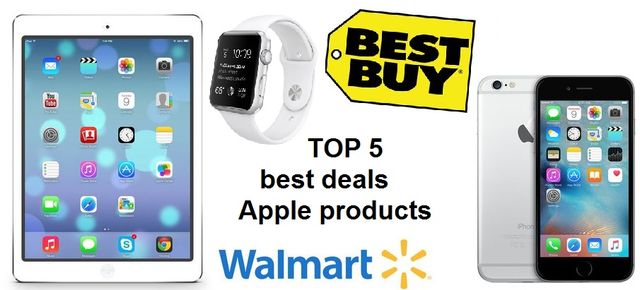 As you know, all the popular sales ended. However, if you did not have time to buy a gift for Christmas, all is not lost! We invite you to get acquainted with the best deals on Apple products in various retail stores and other places.
We should note that all deals are available at the time of writing an article.
Cheap iPad at Best Buy
Popular stores in the US Best Buy offers discounts from $100 to $150 for the tablets from Apple, such as the iPad 2, iPad Air and iPad Mini 4.
Apple Watch at Best Buy and B&H
Similar to the first deal, Best Buy is offering a discount of $100 on different models of Apple Watch. With the discount, you can buy smartwatch only for $250.
Also, if for some reason you do not want to buy at best Buy, then B&H has a similar deal with discount of $100 on Apple Watch.
iPhone 6S 16GB for $1, iPhone 6S Plus with discount of $100
If you have already bought the tablets and smartwatches, then it's time to look for smartphone! So, all the same Best Buy offers to buy iPhone 6S 16GB for just $1! However, the smartphone will have a contract with Verizon or Sprint.
If 16GB is not enough for you, then you can choose the deal iPhone 6S Plus with discount $100. The deal is valid on models with 16GB and 64GB.
Discounts on iMac and Macbook
This year, Best Buy has the best deals. Thus, you can choose absolutely any device from Apple. Earlier we looked at the tablets, smartphones, and now can choose the device for work, for example, Macbook Air, MacBook Pro or iMac.
iPad Mini 2 at Walmart
Despite the fact that iPad Mini 2 was released two years ago, the tablet is still a good device. Walmart offers to buy iPad Mini 2 16GB for just $199.