In an effort to get you to part with your old phone on Verizon and upgrade to a newer smartphone from Verizon, they're currently running a promotion with their trade in and trade up event. It's pretty easy to get started: Select the manufacturer and model of your phone and Verizon will tell you how much you will get for a trade up value. The prices are not real good for the trade in prices, and you could do better selling your old phone privately on swappa, craigslist or ebay but if you want to get into a new phone and don't care how much money you will get for your older smartphone, this might be the program you've been waiting for when it comes to getting a smartphone upgrade from Verizon.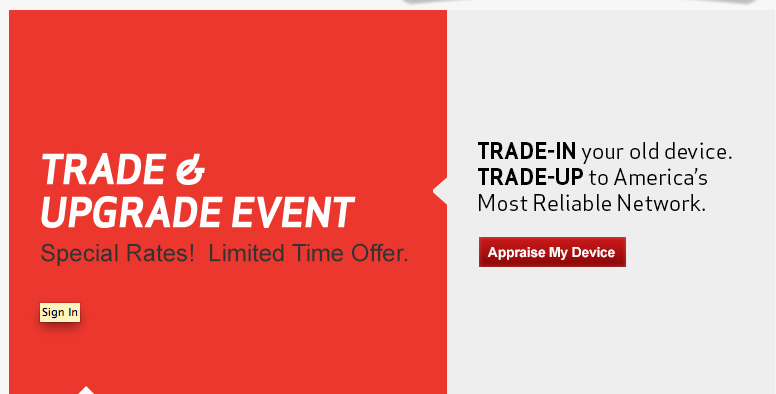 I did a bit of research and my old phone, a Motorola Droid 3 was worth $16.00, and a droid RAZR was worth $30.00 as a trade in device. In the case of a droid 3 you should use the mototradeup program instead and get $100 towards a new Motorola phone. The moto tradeup plan has more limits as only certain phones qualify but if you have an older Motorola phone you should investigate the Moto tradeup program first.
Here's a few more examples for smartphone trade in prices from Verizon:
droid razr maxx hd – $119.00
droid razr hd – 82.00
droid razr $34.00
iphone 4s 16gb – $200.00
iphone 4 16gb – $100.00
iphone 5 16gb – $300.00
It's funny to see that for every generation of Apple iPhone you lose exactly $100 per. $300 for the iPhone 5, $200 for the iPhone 4s and $100 for the iPhone 4. Compared to the droids the iPhones held their value considerably more.
What phones to buy with your verizon trade in money?
There's a few choices for new phones to trade up to as we end 2013 (and enter 2014):
LG G2 – (check prices)
HTC One – (check prices)
Samsung Galaxy S4 – (check prices)
Motorola Moto X – (check prices)
Samsung Galaxy Note 3 - (check prices)
Motorola Droid Maxx - (check prices)
How Does The Verizon Trade In Program Work?
The Verizon trade in program is pretty simple in how it works:
1. visit the verizon trade in page.
2. search for the smartphone you want to trade in
3. answer 3 questions about whether the phone powers off/on and goes to the home screen – if there's any cracks and if there's any dead spots on the LCD. For Apple iPhones it asks if find my phone under iOS7 is turned off.
4. they ask if the battery is missing
5. You're asked if anything is cracked or missing on your smartphone.
6. You're asked if you have a verizon trade in coupon code.
7. At this point you are given the trade in value of the phone along with the option to receive a Verizon gift card via email. Verizon will pay for shipping for you to trade in your device. Or, you're given the option to donate your phone to the hopeline by Verizon. You're donating your device for a good cause and you will not get a gift card if you choose this option. If your phone's only worth a few bucks you might want to consider donating your phone. Some of these phones are not worth much at trade in.
The small print states that you must have accurately described the condition of your phone and verizon cannot return the phone to you. Also, the device must be received within 30 days to receive the trade in price and you should delete all personal information on your phone before you trade it in to Verizon. You must also remove find my iPhone using your Apple ID if you are trading in an Apple iPhone with iOS 7 installed. If the device has been reported as lost or stolen it is not eligible for a trade in and you must deactivate your phone on all services before trading your phone in via Verzion.